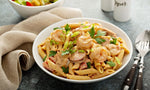 Who doesn't love a perfectly cooked sausage? But what makes one perfectly cooked? After all, we all have our preferences, and everyone has a different taste. As experts with years of experience preparing and cooking sausage, we've compiled a list of five traditional ways to serve andouille sausage. So give these a try and decide which you think is best!
Soups With Andouille
Nothing beats a warm, rich bowl of soup, especially on a chilly day. And when it comes to the best soups to pair with andouille sausage, you have various options. Some of the most loved pairings of soup with this type of sausage include:
Creamy mushroom soup
Potato soup
Bean soup
If you decide to go with one of these preparation options, it's always best to cut up the sausage so that you can mix it into the soup for some delicious added flavor!
Pasta With Andouille
Whether you prefer penne noodles with a white sauce or a red sauce, andouille sausage will pair well with them. The possible flavor combinations are virtually endless. The only boundary is what you believe tastes best. This makes for a nice change in pace and a major upgrade in flavor.
Bonus Idea: Macaroni With Andouille
Simply cut up and mix your andouille sausage with your favorite macaroni and cheese recipe. For a bit of extra flavor, consider adding some peppers, garlic, or your favorite spices!
Andouille Sausage and Eggs
If you need recipe ideas to make breakfast tastier or plan to host brunch in the upcoming future, serve an andouille sausage and egg casserole! Whether you prefer scrambled eggs, sunny-side-up eggs, or a quiche, it's sure to blend wonderfully with the chopped-up sausage.
Tasty Casseroles With Andouille
When it comes to casseroles, you have countless options, many of which go great with some tasty andouille sausage! For example, consider preparing a potato casserole with some andouille sausage mixed in for a starchy and delicious side.
Gumbo With Andouille
There are various recipes for gumbos that include andouille sausage that you're sure to love. A chicken and andouille gumbo is a classic choice for many people, not to mention a wonderful blend of flavors! But others prefer a bit of spice with a Cajun andouille gumbo.
As you search out the best place to buy some andouille sausage or other types of sausages, shop at Logan's Sausage! We have andouille sausage for sale so that you can get to enjoy all these delicious and traditional ways to serve andouille sausage. You'll love every bite of your next meal!