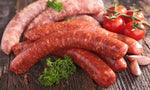 Buying sausage online is more efficient than doing so in the store, as you don't have to navigate those packed grocery store aisles. Plus, online sausage shops usually have a wider variety of options, and the best shops sell perfectly seasoned meat. So, as you shop around, jot down these five factors to consider when buying sausage online to ensure the perfect purchase.
Shop for Fresh Sausage
When shopping for food online, it's always best to see how the sausage will ship out. Some companies may sell frozen sausage, which won't taste as great as sausage made and sold fresh. Choosing to buy fresh, not frozen, will enhance the taste as you cook up your next protein-packed meal.
Avoid Sausage With Additives
Some companies may use different additives to preserve the meat, and while this means the sausage will last longer, it isn't necessarily good for your health. Before making a purchase, poke around on the company's website to see whether they use additives and other preservatives in their product.
Pro-Tip
Logan's Sausage is an online sausage store that sells delicious, fresh sausages with no artificial ingredients. Our meat is free of fillers and made from 100% authentic muscle meat. Plus, we prepare our sausage in small batches to ensure each link gets properly seasoned.
Know What Flavors You Like
There are various types of sausage, and each has a slightly different flavor depending on the herbs and spices used to season it. It's always best to know what flavors you prefer eating so you can buy the sausage you know you'll love. So, if you love spicy food, then some authentic chorizo may be perfect, but others prefer sweet Italian sausage.
Watch Out for Allergens
It's also essential to closely evaluate the product description if you have allergies. Sometimes, brands aren't safe for those with gluten, nut, or dairy allergies. If you're allergic to one of these items, make sure you check the label before clicking "Add to Cart" so you can safely enjoy the meat you buy.
Think of How You'll Prepare It
Deciding on the perfect side is another essential factor to consider when buying sausage online since it could be the deciding factor in the type you purchase. Take time to browse various recipes to get a better idea of what you want to cook, so you buy the appropriate kind of sausage for your dish.
For example, if you need the perfect ingredients for Taco Tuesday, then definitely consider spicing it up with chorizo. If you'd rather introduce your tastebuds to Polish cuisine, then kielbasa is the way to go. The most crucial part of buying the best sausage is finding one that's sure to satisfy your cravings!