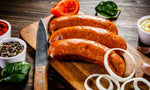 There are various types of sausage around the world since each country has its own spin on this delicious meat. The multiple seasonings, preparation, and cooking methods set all these types of sausage apart from one another, including kielbasa. Now you may find yourself wondering, "What is kielbasa?" Everything you need to know about this type of sausage, including its origins and some yummy recipes, will be in this article!
What Is Kielbasa?
When first looking at the word, you may not know what kielbasa is, but this is simply Polish sausage, or rather, a broad term for polish sausage. Interestingly, the word itself means "sausage" in Polish and refers to Poland's various types of sausage! Some of the styles of kielbasa include:
Mysliwska: This pork sausage has more of a smoky flavor.
Krakowska: Originated in Krakow, Poland, and usually served cold.
Kabanos: Served cold and is traditionally pork but can be made with chicken.
Zwyczajna: This is considered the "typical" sausage you'd serve in a bun.
Wiejska: It's also known as country sausage; it's tender and sometimes U-shaped.
These are just some of the various types of kielbasas; the list could go on, and one thing each type has in common is that it's delicious. The most common way to serve Polish sausage is with fried onions, but we'll dive deeper into some mouthwatering recipes later in this article.
You can purchase kielbasa smoked, cured, dried, or even raw, and the way you buy it sometimes depends on the type of sausage. For example, most eat kabanosy cold as an appetizer, so it's already cured and safe to eat; you don't have to cook it.
There Are Many Types of Kielbasas
Like various regions across the United States have their very own spin on a single dish, multiple areas in Poland have their version of kielbasa. What does this mean? More flavors and preparations methods of this beloved meat dish!
Each type of kielbasa has a distinct taste, and many pair best with different sides and dishes. Some people even enjoy different types of Polish sausage on special occasions like weddings and holidays.
Does Taste Differ?
After hearing that there are various types of kielbasas, you may find yourself wondering how each one tastes. The flavor of the sausage depends on the flavor you prefer to eat since some may be a bit smokey while others have a different blend of flavors. Plus, the type of meat used for the sausage could further diversify the taste. Some types of Polish sausage include herbs like juniper, which will hit the tastebuds differently than types that don't.
How Is Polish Sausage Made?
Answering the question, "What is kielbasa?" and uncovering everything you need to know about it would be incomplete without covering how to make this type of sausage.
People make Polish sausage by mixing ground meat with various other seasonings and herbs such as black pepper, garlic, and some marjoram. While it's traditional to use pork, you can find it made of beef, lamb, or even poultry. After mixing the ground meat with the seasonings, you'll have to use a meat grinder to push out the sausage, then cook the meat in your method of choice.
Tips for Cooking Kielbasa
Like any other sausage, you can cook kielbasa by grilling it, frying it in a pan, boiling it, or various other cooking methods. Typically, how you prepare the meat depends on what you cook with it. If you want to put it in a stew, boiling it may be best. On the other hand, if you plan to serve some kielbasa alongside delicious perogies for authentic Polish cuisine, then pan-frying or grilling it may be best.
Recipe Ideas for Kielbasa
There are countless delicious ways to serve Polish sausage, such as in a cheesy potato-sausage casserole or a soft bun piled high with sauerkraut! Other common recipes include:
Polish sausage and bean stew
Polish sausage and fried rice
Fried Polish sausage and perogies 
Polish breakfast skillet
Like any other type of sausage, your recipe options are endless. You could cut up the sausage and serve it in chili or mix it into your soup of choice. Search out a recipe that satisfies your tastebuds and keeps you coming back for seconds!
Other Interesting Ideas
Since there are so many different types of Polish sausage, your serving options are endless. Cut up some kabanosy for a charcuterie board, or mix some kielbasa into your pasta for an added bit of flavor. Some sausage lovers even recommend serving it in your next salad. Polish sausage works perfectly for any meal, regardless of the time of day.
When Do People Eat It?
Traditionally, many Polish families eat sausage, specifically biala kielbasa, on Easter. This is a raw sausage that many cook by boiling it or frying it in a pan alongside some onions, then serving it with horseradish and other condiments. 
Many also enjoy Polish sausage alongside scrambled eggs for breakfast or with some potatoes for dinner. In other words, people don't exclusively enjoy kielbasa on holidays; in fact, many consider it a staple to various Polish dishes. 
Tips for Buying Kielbasa
When buying kielbasa and other types of sausage, you want to look for the best quality meat. Logan's Sausage makes and sells various types of sausage and has fresh kielbasa for sale. All our meat contains the authentic flavors you want to cook up something mouthwatering. Finding Polish sausage with an original taste is always best, especially if you plan to cook it alongside authentic cuisine.
How Do You Store Polish Sausage?
Many people buy sausage and store it in the fridge or freezer to cook later. If you put uncooked sausage in the fridge, most recommend cooking it within a week. However, if you cooked or opened the package, eat it within a few days. On the other hand, if you freeze your kielbasa, it should be good for around six months. You shouldn't have to worry too much, though, since Polish sausage tastes so incredible you may not even have leftovers!