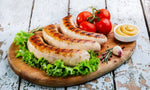 Nearly everyone loves chicken because it's healthy, delicious, and easy to add to recipes. But, while plenty of us enjoy eating chicken tenders or carving into a juicy chicken breast, you may not have tasted chicken sausage. If you need some convincing, check out these great reasons everyone should try chicken sausage.
Reason 1: It's a Great Source of Protein
Plenty of people enjoy eating chicken because it's a lean source of protein, which is great for muscle growth, your bones, and can help boost your metabolism. Eating protein also helps repair muscle and other tissue, which is especially important to athletic individuals. What better way to end a day at the gym than with some delectable chicken sausage served with sautéed peppers and a baked potato? Yum!
Reason 2: It's Healthy
Chicken is an excellent source of protein, but that's not the only reason it's nutritious. It's also packed with essential vitamins such as tryptophan, zinc, iron, and more, which are beneficial for physical and brain health.
It's Low in Fat
Plenty of individuals can't eat high-fat diets due to health reasons such as high cholesterol, but this doesn't have to stop you from enjoying a great sausage. Since chicken is lean meat, it has less fat than red meat or pork.
Reason 3: It Improves Mood
While this may sound silly, chicken helps to reduce stress levels. This is because of some of the vitamins in it. And since chicken sausage is tasty, your brain is more likely to release those feel-good hormones as you enjoy every bite of this meal. Logan's Sausage has delicious chicken sausage for sale that you'll crave after a single bite!
Reason 4: It's Versatile
Chicken goes great with everything, and the same thing is true for chicken sausage. If it's game day, throw a couple of links on the grill alongside your other sausage of choice to wow guests. Or fry some sausage on the stove and mix it into mac and cheese the next time you make your family dinner. Chicken pairs perfectly with every food you can imagine.
Reason 5: It's a Change in Flavor
The final reason everyone should try chicken sausage is that it's a culinary change. When we talk about sausage, most everyone thinks of bratwurst, kielbasa, chorizo, Italian sausage, or other traditionally pork sausages. Chicken sausage stands out to your tastebuds because of the different spices and types of meat. Make your next cookout one to remember with the mouthwatering option of chicken.