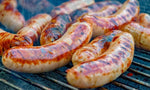 There's no better match than game day and the delicious flavors of a nice, juicy bratwurst sandwiched in a soft bun. Yum! With a couple of tips for serving the best bratwurst on game day, you can make this meal all the more delicious.
Tips for Cooking Bratwurst
The way to cook your brats depends on what you like best. While some love the classic grilled bratwurst, others prefer baking it in the oven or cooking on the stove. Some even cook their brats in the air fryer for that delightful crispness without the oil involved in deep-frying.
Your cooking method usually depends on the recipe you plan to use. Also, keep the other ingredients you plan to use in mind. For example, you may want to fry onions alongside your sausage for a nice blend in flavor.
Tasty Tip
If you want your brats to taste as if they came straight out of the sports stadium, warm up a skillet or grill, and use cooking spray or oil to prevent them from sticking. Once cooked, serve them in buns packed with sauerkraut, caramelized onions, and a drizzle of Dijon mustard.
Mouth-Watering Recipe Ideas
When serving brats on game day, you may need a bit of inspiration for the perfect recipe. Some popular options include:
Bahn Mi brats
Chicago style brats
BLT brat
Philly style brat
These are far from the only recipes you can choose. If you love spicy food, cook a delicious brat topped with jalapenos, hot sauce, and your cheese of choice. The perfect bratwurst recipe is one packed with all your favorite ingredients.
You could also step up your cooking by swapping that regular old bun out for a pretzel bun! If you don't want to use a complicated recipe, this is an easy way to transform a classic bratwurst.
Best Sides for Brats
Now that you have ideas for cooking methods and a tasty bratwurst recipe, it's time for the second most important component—the sides! When you serve brats, you can't go wrong with a classic side, like sauerkraut, loaded baked potatoes, or grilled corn on the cob. Potato pancakes are another great starchy side and perfect alternative if baked potatoes aren't your go-to.
With all these tips for serving the best bratwurst on game day in mind, it's time to buy some tasty brats. Logan's Sausage has German brats for sale that are perfectly seasoned to have that authentic taste you'll love. Shop for incredible bratwursts to curb your cravings!