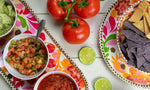 With Cinco de Mayo and all its exciting festivities around the corner, it's never too early to plan the perfect menu for the big day. Organize an array of delicious foods and drinks by jotting down our list of suggestions. Most would agree that not much tops a full belly while celebrating a holiday with friends and family!
Dish 1: Guacamole and Salsa
Nothing beats freshly made guac and salsa, and this is a must-have combo on Cinco de Mayo. Not only is this dish delicious and authentic, but it's also versatile! You can add guac to a plate of nachos or have guac and chips as the perfect side to a savory burrito. You can add sweet or spicy salsa depending on what you find tastiest.
Dish 2: Chorizo
Chorizo is always delicious and the perfect main course for Cinco de Mayo. You can serve some chorizo sausage on its own or alongside one of the other foods mentioned in this list. Need extra cooking inspiration? Consider adding chorizo to enchiladas or serving it in an egg wrap for breakfast.
Buying Tasty Chorizo
You can order chorizo online by shopping at Logan's Sausage! Not only is our meat delicious, but it's also seasoned in small batches to make sure your meal tastes authentic down to the last bite.
Dish 3: Quesadillas, Tacos, and Burritos
Quesadillas, tacos, and burritos are some of the top foods to serve during Cinco de Mayo because they taste great and allow you to customize them to your liking. If you decide to host a party, you can set up a taco bar complete with fresh tortillas, cheese, various meats, and other fillings. You could cut up some of that spicy chorizo, make ground beef, grill chicken, or offer a mix of these options.
Dish 4: Mexican Street Corn
As you plan out your menu, almost everyone recommends enjoying some Mexican Street Corn on this cultural holiday. This is because of its popularity in Mexico. For some extra flavor, try grilling corn, then top it with mayo, cheese, and sour cream. For a bit of spice, add a dash of chili powder.
Dish 5: Nachos
If you need an option that works as a main course, appetizer, and side dish, then nachos are the way! When serving it as a side or appetizer, keep dips like spicy queso, salsa, and guac on the side so guests can decide how they like it. On the other hand, if nachos are the main course, load them up with some meat, sour cream, refried beans, salsa, and a drizzle of nacho cheese to top it off.
Don't Forget Drinks and Dessert
As you scope out the top foods to serve during Cinco de Mayo, it can be easy to get caught up in tasty recipes; never overlook the importance of drinks and dessert. Both are the cherry on top of a perfect meal! So, get festive with some horchata or margaritas for the adults.
End the perfect evening by treating your tastebuds to some sweet churros and flan. Your belly will be happily packed with tasty food by the end of the night!