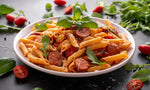 Italian sausage is a favorite for many individuals because it's delicious and versatile. As you begin searching for traditional Italian dishes that use Italian sausage, you may feel overwhelmed by the plethora of results. To keep meal prep easy and fun, we've compiled a few great ideas for cooking with Italian sausage.
Serve It With Pasta
Not much beats a pairing like Italian sausage and pasta. The best thing about these dishes is that you have various flavors to choose from. For example, some lasagna recipes call for Italian sausage instead of ground beef because that blend of meat, cheese, and noodles makes the mouth water! Other individuals prefer pairing their sausage with spaghetti or penne and a tomato vodka sauce.
Lasagna
If you plan to serve your sausage in lasagna, consider cutting it up or dicing it as you layer those yummy ingredients.
Spaghetti
You can easily serve Italian sausage on spaghetti by cutting it up and arranging it on top, just like meatballs! For some additional flavor, add a little bit of parmesan cheese for zing, or if you love spice, then sprinkle on some red pepper flakes.
Serve It With Peppers
Another of the three traditional Italian dishes that use Italian sausage involves cooking it alongside peppers. While this may sound a bit basic, hear us out.
Italian sausage and peppers are a great pairing because of their versatility. Some recipes suggest putting the two in a slow cooker with some red sauce and mushrooms, while other culinary experts advise frying your ingredients in a skillet. Eat this pairing alone for a light lunch, or add both ingredients to a more complex dish to make your meal even better!
Serve It on Pizza
Do you need a safe option that the whole family is sure to love? If so, then a pizza is the way to go! When it comes to the dough, you can buy a pre-made option at the store or make the dough yourself for something that tastes extra fresh. You could make a large pizza for your family or break a homemade dough apart so everyone can create a personal pan. Allowing everyone to craft their own pizza lets those sausage lovers pile their pizza with plenty of meat.
Another Yummy Option
If the traditional pizza sounds bland, then mix things up with a calzone! This meal still falls within the pizza family but is more like a pizza sandwich. Best yet, you can stuff your calzone with all the sausage you'd like to ensure you taste it in every bite you take.
Only Buy Quality Sausage
As you shop for your traditional Italian sausage, strive to buy your meat from a brand that makes the flavor a priority. At Logan's Sausage, we season our links in small batches to ensure each receives the attention it deserves. Narrow down your favorite flavors to make your next authentic Italian meal an absolute success.