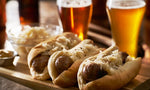 People have enjoyed the delicious flavor of bratwurst for centuries—literally! Brats originated in Germany during the 14th century. Countless recipes describe various ways to cook brats, and each leads to some delicious food on your plate. Keep reading our ultimate guide to cooking German-style bratwurst as you plan your next meal.
Common Ways To Cook Bratwurst
Many of us love bratwurst because it tastes incredible, and there are various ways to cook it. Each cooking method adds to the flavor and texture.
Cook It in the Oven
Baked sausage tastes fantastic, and best yet, it's an easy way to cook this yummy meat. All you have to do is:
Set your oven to 400 °F
Place your sausage on a lined baking sheet
Put links in the fully-heated oven
Allow your sausage to cook for 30 minutes; flip each sausage after 15 minutes
Always check your meat before eating it since it may need additional cook time if it still appears red on the inside. Additionally, if you plan to cook frozen sausages, your cook time will increase by 15 to 20 minutes, and you'll still want to flip each link halfway into cooking.
Cook It on the Grill
Brats on the barbecue are a classic, especially in the summer when many of us host outdoor dinner parties to enjoy the beautiful weather. Cooking brats on the grill is quick and easy:
Turn the grill on low to medium heat
Put brats on the grill, and flip each brat after 10 minutes
Sausage should cook for 20 minutes, but check to make sure the links are fully cooked before serving
As you cook your bratwurst, avoid cranking up the heat in the hopes of decreasing your cook time since this could lead to burnt sausage—a true mealtime tragedy.
Pro Tip
You can also bathe your brats in some beer for 24 hours, and then cook them on the grill. This traditional method leads to juicy bratwurst you'll love!
Cook It in a Crockpot
Not feeling like cooking outside? Not to worry! Many people rave about how delicious sausage is when you toss it in the crockpot and leave it to cook. The best thing about using a slow cooker is that you don't have to sit there and wait for your food to cook. Your cook time and how you make brats with this method may vary depending on the recipe, so closely follow the recommended directions.
Remember that when you put brats in the crockpot, you'll need to brown them first. You'll do this by cooking them in a pan on the stove for a few minutes over high heat. The sausage doesn't need to cook completely, but you need to brown both sides. After doing this, it's time to put it into your crock-pot.
Cook It in the Air Fryer
Another great way to cook your brats is in the air fryer since it's quick, easy, and tastes great. To do this, simply:
Set the air fryer to 350 degrees
Place brats in an air fryer basket
Flip links halfway into cooking, or after 12-15 minutes
Remember to give each link some space in the air fryer so they can cook evenly, since squishing them together will only increase your cook time. When your brats finish cooking, enjoy those crispy links solo or on a bun.
Meal Ideas for Bratwurst
Like all sausage, brats are great because they're so versatile, and because they taste great. While some home cooks mix bratwurst into an egg bake for a hearty breakfast, others make kabobs on the grill. Jot down some of our favorite ideas, so you always have a meal plan in your back pocket!
Cooking Ideas Per Cooking Methods
Each cooking method will have different meal ideas since the technique used slightly alters textures. For example, you usually wouldn't grill a sausage for stew. We've listed some tasty meal plans per cooking style to get the ball rolling.
Baked Bratwurst Meal Idea
Consider cooking your brats alongside some chopped bell pepper and onion. Allow everything to cook in a single pan, and drizzle olive oil on your meat and veggies. Your food gets a bit crispy, and the blend of flavors tastes great!
Grilled Bratwurst Meal Idea
Why not chop up some other ingredients to make kebabs if you plan to power up the barbecue grill? Most recipes call for red onion, zucchini, bell pepper of choice, and sometimes even pineapple. This combination leads to the perfect blend of flavors.
Slow-Cooked Bratwurst Meal Idea
On a rainy or otherwise damp day, you need a cozy meal, and slow-cooked brats are the way to go. Brats mixed with a bit of beer then left in the crockpot taste great. Just chop up some onions and garlic and place those veggies in the flow cooker, alongside your browned brats. Finally, add a beer-mustard sauce over the top and let it cook.
Air Fried Bratwurst Meal Idea
If you put your brats in the air fryer, you can't go wrong with a pairing of fries or some baked beans. Others enjoy a crispy air-fried bratwurst in a soft bun with caramelized onions, mustard, and sauerkraut. Mix and match options or give yourself some variety by choosing all of the above!
Bonus Recipe Ideas
Below, we've listed a few tasty ideas that you may want to try out:
Cheesy bratwurst casserole
Bratwurst stew
Bratwurst strudel
Bratwurst for breakfast
The ideal recipe differs from person to person since we all prefer different flavors. So, while you may think a bratwurst breakfast skillet is the best recipe, your friend may argue that nothing tops a cheesy bratwurst casserole.
Did Someone Say Sides?
You can't have the ultimate guide to cooking German-style bratwurst without mentioning sides, since these add to the food on your plate and the flavors you'll taste! We've done the digging for you and found some of the most popular sides to pair with your brats:
Soft pretzels with beer cheese sauce
Grilled corn
Potato salad
Sauerkraut
Potato pancakes
Baked beans
As you pick out your side, think about how you'll prepare the sausage. Sauerkraut goes perfectly with any cooking method, but some potato pancakes would go perfectly with pan-fried sausage, especially if you need to make a hearty breakfast.
Shop Quality Meats
There are countless recipes online, and each sounds as mouthwatering as the last! Of course, before you can begin cooking, you'll need to buy your meat, and quality bratwurst is the best-tasting sausage. Logan's has bratwurst for sale, and our sausage is 100% muscle meat; we even season it in small batches to ensure an authentic flavor. Pick out your favorite cooking method, recipe, and side, so you can wow your household with something truly delicious!