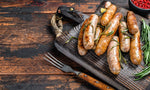 When someone says the word "sausage," what's the first thing that comes to mind? Maybe it's brats or some spicy chorizo. Or perhaps you think of chicken sausage. Keep reading this article to learn what chicken sausage is and how to prepare it.
What Is It?
So, what is chicken sausage? And what does it taste like? Chicken sausage is exactly what it sounds like—a sausage made from chicken that tastes amazing. This type of sausage comes in various flavors so that you can get some spicy chicken sausage, a garlic blend, or something else. Some meat lovers even add their seasonings to the sausage casing and allow it to marinate before cooking their links.
Benefits of Chicken Sausage
Aside from its great taste, many people love chicken sausage because it's less fattening than pork sausage, without sacrificing flavor. Another reason to try chicken sausage is that it's an amazing source of protein and packed with vitamins that can help improve mood. Of course, every type of sausage is a mood-booster since eating our favorite foods releases dopamine, making us happier!
Tips for Preparing Chicken Sausage
You've got a few different options for preparing sausage, and in our opinion, the perfect cooking method depends on your preferences. If you love a bit of smokiness, the grill is excellent. However, if you prefer your chicken sausage to be crispy, you've got to try air frying it. So, let's get into the three most common cooking methods; note that the listed temperatures are all in Fahrenheit.
Baked Chicken Sausage
Sometimes, baked chicken sausage is the way to go, and it's easy to do. Most recommend setting your oven to 400 degrees and cooking the sausage for 30 minutes. You should flip it halfway through.
Cooking Tip
Cooking frozen sausage isn't the same as having fresh sausage. Frozen meat takes longer to cook, and when it comes to chicken sausage, the culinary experts advise adding 15 to 20 minutes to the typical cook time. Rather than take 30 minutes, you should expect it to take 45 to 50 minutes for the chicken sausages to reach the proper internal temperature.
Pan-Fried Chicken Sausage
Looking for another easy and delicious way to cook your sausage? Heat a frying pan on the stove and add a tablespoon of oil or butter. Once you've coated the pan, put your sausages in it, but don't overcrowd the pan; your meat needs room to cook. After a few minutes, flip each link and continue cooking until the entire thing is golden brown.
Air Frying Chicken Sausage
If you love crispy yet juicy sausage, you've got to try air-fried chicken sausage. Take a link—that isn't frozen—and place it in the air fryer at 350 degrees. It should cook in 8 to 10 minutes, and you'll want to flip it halfway through. For the best results, stick close to the air fryer so you can check on your sausage and pull it out as soon as it splits, so you don't lose those juices.
Cooking Tip
Some people claim that baking sausage in the oven or frying it is a no-no, but these are people who don't do it the right way. You can make delicious sausage with any method so long as you keep an eye on the meat. If your sausage splits, it's done cooking and ready to eat.
Grilled Chicken Sausage
Nothing beats classic sausage on the grill. Not only do you get all the delightful flavors that come with chicken sausage, but also the smokey taste of the grill. Yum! Before throwing your links on the barbecue, give them around 20 minutes to warm up, so they're room temperature.
When it comes time to cook, turn your grill onto medium or medium-high heat and put those sausages on. Grilling shouldn't take longer than 10 minutes; remember to flip them at the halfway point.
Delicious Meals With Chicken Sausage
When it comes to cooking with chicken sausage, your options are endless, and you can cook your meat for each recipe however you'd like. It tastes amazing mixed into mac and cheese, diced up on a pizza, and wrapped into a burrito. We can go on with the drool-worthy options, and we will in greater detail. Below, we've listed some of our favorite ways to eat chicken sausage so you can experiment with this must-try meat!
Chicken Sausage Sandwich
Who doesn't love a good sandwich? It's a classic dish, and you can craft it however you'd like. Grab some sourdough bread and top a slice with marinara sauce, chicken sausage, and mozzarella cheese. You can eat it as is or fry it to get that cheese melted and gooey.
Alternatively, you could make a sandwich by using some Italian bread and applying a layer of mayo to the bread, then add some pesto, a slice of provolone cheese, some tomato, and finally, your sausage. You can make whatever type of sandwich you want and cook the sausage the way you prefer.
Chicken Sausage Macaroni
You can add all sorts of mix-ins to macaroni to take it from a basic dish to a gourmet bowl of noodles people of all ages will love. Plenty of people add chicken to their mac and cheese or eat these noodles as a side. So why not blend some juicy chicken sauce into your macaroni?
Chicken Sausage Pizza
If sausage or meat lovers' pizza is your favorite, you've got to try this one. Make your favorite pizza recipe and top it with chopped chicken sausage. This is a perfect option for planning a fun family dinner since everyone can make personal plans. Just make sure you cook up enough chicken sausage for everyone to top their pizza!
Chicken Sausage Breakfast Burrito
If you need a hearty and filling breakfast, chicken sausage is the way to go! First, consider making a breakfast burrito with a soft tortilla packed with eggs, cheese, chopped bell peppers, mushrooms, and of course, chicken sausage. If you want a bit of spice, add some salsa or a dab of hot sauce.
Cooking Tip
Make meal prep easy by cooking your chicken sausage the night before. This will speed up cook time, meaning you can enjoy your breakfast faster!
Buy Quality Meats
Usually, you can find chicken sausage at the grocery store, but if you want to buy chicken sausage online, shop at Logan's! Our sausage is muscle meat seasoned with natural spices in small batches. Shop for quality sausage so you can cook up some delicious chicken sausage in your favorite style for a meal that'll make your mouth water.