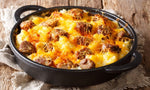 Many of us love a good sausage, but some don't follow the best cooking methods. Making mistakes in the kitchen is natural, and as you recognize (and correct) them, you discover ways to make food more delicious. Check out the common mistakes to avoid when cooking sausage, so you can make a perfectly juicy and flavorful meal.
Mistake 1: Cooking Too Many at One Time
How could anyone cook too much sausage? This mistake is less about quantity and more about overcrowding the pan or grill. If you pack your sausages too closely, they won't cook evenly. Or worse, some of the links may get a bit soggy. So, when you cook your meat, make sure there's enough space between your sausage—you don't want them to touch each other.
Mistake 2: Poor Cooking Methods
When you're hungry and craving sausage, you want your food as soon as possible, but you can't throw your sausage on a pan or the grill the moment you turn it on. Give your appliance of choice time to heat up before throwing a few links down. This will help ensure you have an even temperature as you rotate your sausage.
Mistake 3: Improper Prep Work
Some of us are guilty of cutting into or poking holes in the sausage casing before or during cooking. Doing this will result in all those delightful juices seeping out, which may result in a dry and less-than-enjoyable sausage when it comes time to eat.
Mistake 4: Not Knowing Sausage Types
Many home chefs mistakenly mix and match sausage types while cooking. Kielbasa and chicken sausage don't taste the same, nor do any other types. You can't just buy a pack of sausage and expect it to satisfy a craving when you have specific flavors in mind.
Popular sausage types include:
Chorizo
Andouille
Italian sausage
Chicken sausage
Bratwurst
Kielbasa
Each sausage type has a defining taste because of the spices and seasonings added to them. And to some meat-lovers, chicken sausage is an entirely new experience for the tastebuds because most sausage is pork.
Mistake 5: Not Using a Recipe
Crafting a recipe and mixing ingredients is fun, but sometimes we need to explore recipes designed by the experts. After all, these culinary geniuses have crafted the perfect blend of spices and other flavors, which can come in handy when you want to serve sausage in a separate dish.
Finding a tasty recipe guarantees that your sausage will turn out wonderfully. For instance, if you serve kielbasa, you may want to cook it into a cheesy potato casserole. The perfect blend of flavors will take your sausage to the next level and ensure you enjoy it down to the last bite.
Shop at Logan's Sausage
Logan's has diverse types of fresh sausage for sale. You can buy some spicy chorizo, mouth-watering chicken sausage, smoked sausage, and other delicious options. Buy a variety to get to know the many flavors of this tasty meat.